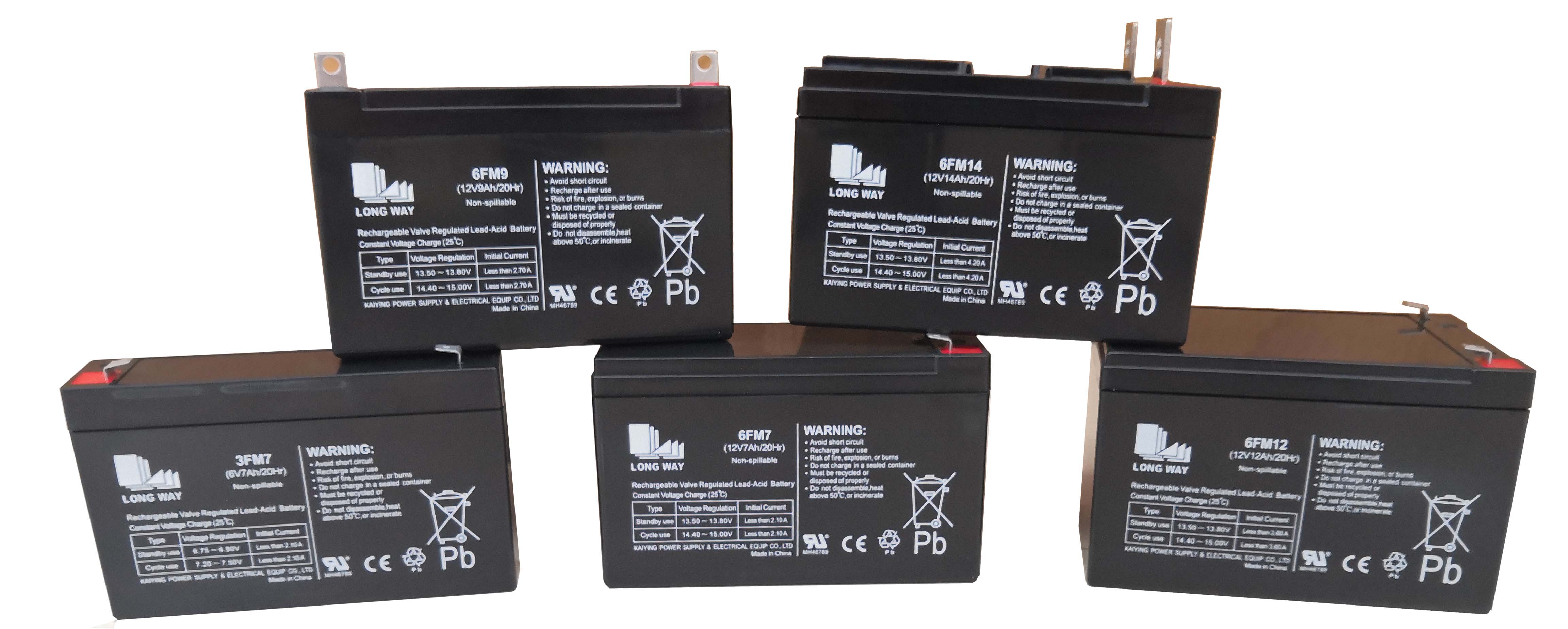 HR (High Rate) series @LONGWAY brand is specially designed for applications of high rate discharge.Excellent high current and high rate discharge performance.With special grid alloy and unique electrolyte formula, the high current discharge performance of this series is 40% higher than that of the general series. It is suitable for UPS / EPS, telecommunication, emergency and control system etc.
Product Standards:
Longway series batteries meet JIS, DIN, BS, iec60896 and EU testing standards.
Batteries have obtained ISO9001, ISO14001, ohas18001, UL (No. 46789) and CE certification.
All battery certification is consistent with system equipment request.
Features:
1. Silver-plated terminals (F1, F2 terminals) are used. Copper terminals and lead terminals have better conductivity.
2. Thin plate technology, special grid design, unique lead paste formula and process optimization, have good high-current discharge performance.
3. Good quality AGM separators have lower internal resistance. Improve high-current discharge performance.
4. High energy density, long service life (cycle or float use )
5. Low internal resistance, good high current discharge performance
6. ABS container; improve the strength of the battery case (if necessary, flame-retardant ABS materials can be provided)
Applications:

1、UPS(High power))
2、High-power backup power supply
3、Emergency packs

4、Starting system
5、Electrical tools
6、Electrical starter
General Specifications:
Battery Model

Nominal
Voltage(V)

Nominal
Capacity(AH)20HR

Length±1

Width±1

Height±1

Total Height±2

Weight(±3%)

Terminal

in

mm

in

mm

in

mm

in

mm

ibs

Kg

Type

Position


6FM7L.pdf

12

7

5.94

151

2.56

65

3.78

96

4.25

108

5.00

2.27

F6

D


6FM9L.pdf

12

9

5.94

151

2.56

65

4.35

110.5

4.84

123

6.06

2.75

F6

D

6FM12L

12

12

5.94

151

3.86

98

3.70

94

4.13

105

7.61

3.45

F6

D


HR12-28W.pdf
12
7.0
5.94
151
2.56
65
3.70
94
3.94
100
5.29
2.40
F2
D

HR12-34W.pdf
12
8.5
5.94
151
2.56
65
3.70
94
3.94
100
5.29
2.55
F2
D

6FM12H(190A).pdf

12

13

5.94

151

3.86

98

3.86

98

4.72

120

8.33

3.78

F7

F


6FM14H (215A).pdf

12

14

5.94

151

3.86

98

3.86

98

4.72

120

8.60

3.9

F7

F


3FM12H.pdf

12

12

5.94

151

1.99

50.5

3.70

94

3.94

100

3.75

1.7

F1/F2

C

6FM12H(51W).pdf

12

12

5.94

151

3.86

98

3.66

93

3.90

99

7.72

3.5

F2

F